Happy Summer Everyone!
Do we have some exciting news for you!
We are THRILLED to share with you that we had a wonderful evening of fellowship at the Contemporary Christian Concert we hosted on June 19th at the Univest Center located at 4th and Mill Street in Quakertown, "Freedom in Christ" with Larry Serge performed as well as St. John's "New Life" Band. Because of the support of so many business sponsorships and the generous donations we received that evening – we raised almost $7,000! Praise God!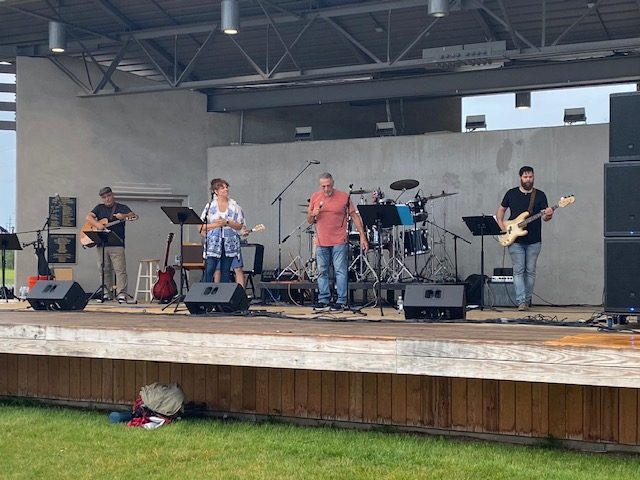 Now that we shared that exciting news, let us tell you about some awesome things that are happening right now over the summer months.
Friday Nights at The Pavilion
Many of you know that during the summer months we give our building back to the Borough so that they may host summer camp for the kids.
We did not want to lose our connections with the kids we have worked so hard to make connections with throughout the last few years. So, we decided to hang out with the kids on Friday evenings at the Pavilion in Memorial Park. We bring some pizzas, games and feed the kids and just hang out.
We have only had a few kids come out but what we learned that we found interesting, is that because trees have been cut down and no longer provide coverage from the security cameras, a lot of the kids are choosing to hang in other places.
We did have the opportunity this past Friday evening to meet a new young man, who at the age of 22 shared his struggles with addiction and asked about our faith, which allowed two of our volunteers to be able to share with him their journey with God.
We then had a young lady that graduated this year "Drop in" while on her dinner break from work so she could catch up with one of the volunteers and share what was happening in her life! Praise God, He is making "Divine Appointments" while we are just there to be His light to anyone who will allow us to share.
We are really looking forward to seeing who God leads to the pavilion in the weeks to come. If you would like to see who that may be- we would really love to connect with you! We really do need more volunteers.
We plan on being open at least 3 days a week once we are back in the building and cannot achieve that without some help. Please keep The Drop and the Quakertown Community Center in prayer that individuals and/or church groups step up and help us be a safe haven for our youth in Quakertown.
If you want to learn more about anything shared with you here today, please feel free to reach out to Shelby Leight, our Director of Communications at 215-892-2178.
Prayer Requests:
Volunteers with a heart to reach the kids in our town
An Administrative Assistant who can get behind our vision
Three churches who can pick up our vision and join
A permanent location
SPECIAL THANKS TO OUR CONCERT SPONSORS:
Ashby Law Services

Baringer Hartman Insurance

Celerity Integrated Services

Ciocca Dealership

Dave's Services – Tree & Lawn Care

Eastern Diversified Services

Gorski Engineering

H&K

Keller Williams Realty – Landis Rentsel Team

Kulp Roofing

Landis Agencies – Insurance & Finance

Menzen & Company

Merck Sharp & Dohme

Naugle

QNB

Savona Family Chiropractic

ServPro

Styer Associates – Public Accounting

Upper Bucks Free Press

Weber Kracht & Chellew

Yates Electrical Services